Following publication day, Unbound set up a weeklong Blog Tour.
Please see below for the reviews from this event.
Blog Tour & Review: Leaves of Love by @LucyAykroyd @Unbound_Digital @RandomTTours #LeavesOfLove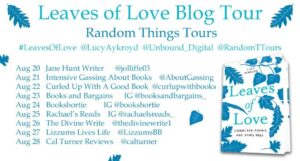 Day 1 – @jolliffe03
My Thoughts…
Dying is one of life's certainties and also one of its greatest mysteries.
Experienced in helping people with ageing and dying well, the author shares her personal and professional experience in this friendly, short, but informative book. Divided into case studies and reflections, practical considerations and a helpful glossary this book is user-friendly and full of sensitively delivered information.
The book emphasises the positive aspects of this final journey and the importance of respecting the person's wishes whatever they may be.
Worth reading to add to your knowledge, but invaluable if you are facing this eventuality. I wish I'd had something like this or someone like the author when my mother died.
Day 2 – @AboutGassing
Leaves of Love is a beautifully written book giving insight into caring for people as they get older and how our actions can make a real impact on quality of life. I found this to be a really useful read both on a personal level but also on a professional level. I think in this world of modern technology and gadgets it is really easy to forget about how the simple things can make biggest difference. The chapter about non-medical touch really resonated with me and is something I will try to be more mindful of.
We live in an ageing society and will be more likely than previous generations to live into our ninth and maybe even tenth decades. This is a lovely and gently written book which gives helpful suggestions for engagement and interaction in a non-patronising way. I think this is an excellent read for anyone regardless of age or profession. The little passages which start each chapter have been well chosen and really compliment the content. There is a lot packed into this book and has given me a lot to reflect upon.
Day 3 – @curledupwithbooks
This is such a fantastic and insightful little book that definitely had me thinking about my own mortality; as well as how I can help others.  Lucy is an end-of-life doula and has extensive experience in enhancing the lives of those who are coming to the end of theirs.  In the first part of this book she talks about some of the ways she has helped others by telling us their story and how it made a difference to them.  These stories are both moving and heart warming, and really got me thinking about how little things can make sure a difference to someone who is heading towards the end of their life.  She reflects on each of the case studies too with fantastic advice for those that may want to try her suggestions.
In the second part of the book, she talks about practical side of things too, including encouraging & carrying out gentle exercise, how to deal with difficult days, how to talk about the practical aspects of death, what to expect from someone who is dying and more.  Lucy shares so many useful experiences, which makes this book a must read for everyone.  She encourages us not to close our eyes, and walk away from death, but to acknowledge it and be prepared; it happens to all of us.
The other thing about this book is the warmth and love that you feel when you read it.  It is very clear that Lucy is an amazing warm, caring, loving and compassionate person and you can feel it coming out as you turn the pages.  I have no doubt that anyone who has worked with Lucy or had her there in their final moments would have felt an unbelievable amount of peace and love.  I can only hope to be as loving and compassionate as Lucy when it comes to my family's final moments when the time comes.
Leaves of Love is a an insightful read with so many fantastic tips for those who may be caring for someone who is ageing, or at their end of life.  But not only that, it really does offer some great advice and things to think about for us all.  I'm really glad that I found this book which has opened my eyes more to death, encouraged me to think about it and face up to the conversations that should be had with my loved ones.  As she says, by talking about death, doesn't mean it's going to come to us any quicker.  I will be keeping this book for the rest of my time on this earth and will be referring back to it as and when needed.
This is a fantastic book that everyone should read.  I will be recommending this book to anyone I meet who is acting in the capacity of carer, or is about to experience the end of someone's life.  This comes highly recommended by me. Thank you Lucy for sharing your invaluable experiences and tips with us.
RATING
5 Stars
Today is my stop on @lucyaykroyd blog tour for leaves of love and I have to give this book 5 stars! Despite perhaps not being the target audience for this book (I have 10 years experience of caring for the elderly and patients at the end of life) this book was beautifully written. The stories showed some of the seemingly small things that can make a huge difference in the winter of someone's life, while the practical tips would definetely help someone with no experience tackle it.
When I was first sent an invitation to be part of this book tour I was truly intrigued. Lucy Ackroyd is an author that I knew very little about but when I read what the book was about I was so interested. I've never read a book like this before. The book is about Lucy Aykroyd and her role as a carer and end of life Dula. It's full of stories about the people that she's encountered in her role, their stories and how she's helped them. Some of the stories are just truly touching and show the huge impact that she's had in the lives of those who are ageing and their families. It's clear to see from the stories how she's become an important part of their lives, part of their family and their journey. The book starts with her own experience and then moves on to include true stories of the people she's interacted with and also helpful advice on how to provide care for someone who is ageing or coming to the end of their life.
📚
Some of the advice include things like simply holding their hand or massaging their feet. This doesn't seem like anything that would be truly important but actually to the person whose hand you're holding or feet you're massaging this can mean the world to them. But it's clear from the stories that the author doesn't rush these little things and it's not a case of one method fits all but she gets to know the person as an individual as to what their likes and dislikes are which can include going for a walk outside, enjoying the sunshine, preparing meals together or singing a song together.
📚
The book also includes little quotes some of which I've booked marked, a section on practical advice and A list of useful resource points.
📚
If you or you know someone who provides care to someone who is ageing or who is nearing the end of life I would highly recommend this book to you.
📖REVIEW: Leaves of Love by Lucy Aykroyd ⠀
⠀
Lucy Aykroyd is a life-enhancing caregiver and end of life doula and therefore draws upon her extensive knowledge and experiences to create this beautiful and poignant book.⠀
🌻⠀
The first half of the book is a collection of short stories, case studies, a selection of real life experiences in which Lucy then reflects upon and the techniques she used. I really liked reading the reflection parts of each story. They offer such an insight into the difference Lucy has made to these families. I found each one incredibly moving. ⠀
🌻⠀
The second half of the book, Lucy offers a selection of invaluable practical tips, from gentle exercise, how to approach difficult days, how to talk about death and what to expect from someone who is coming to their end of life and then lastly about grieving. ⠀
This part of the book was just fantastic, I am a carer myself and although I would say I was good at my job, Lucy has made me step back and evaluate how I could be better, especially with my end of life clients. ⠀
🌻⠀
I am not usually a reader who highlights or tabs pages but i would highlight this entire book. I have come away from this book feeing empowered, full of extensive advice and practical information I can take away and apply with my own clients and their families. ⠀
🌻⠀
This book is only a short book at just under 100 pages but within those pages, it's so incredibly moving and extremely informative. ⠀
Death is very much a taboo subject but Lucy speaks of the importance of embracing the positives of death and respecting each individuals wishes, whatever they might be. I liked Lucy's emphasis on how everyone is different and therefore, you adjust your techniques and approach to suit. ⠀
Death is one of life's biggest mysteries but it's inevitable for us all and this book is a detailed look at how we can prepare ourselves better for those we love and care for in order to make sure their final days are spent with upmost respect and dignity. ⠀
🌻⠀
Day 7 – @thedivinewrite
My thoughts – This is such a beautiful read. A book about love written with love.
What a special person Lucy is, helping people in their final days. It is natural for us all to be afraid of death it is a journey into the unknown. We leave all our loved ones behind and it can be frightening.
This book is anecdotes of people that Lucy has worked with, and shows us that we are all different, we all react to different stimuli like singing or listening to nature. Lucy has made these people's final moments enjoyable.
Death is still viewed as a taboo subject, so to specialise in end of life care takes very caring people. You may think it is a sad read but it isn't, it is very uplifting and reminds us to make the most of every part of our life. Even in our final days our senses can be stimulated which can bring about happy memories.
I would recommend anybody to read this book, not just carers, everyone can take something from it. Beautiful.
Day 8 – @LizzumsBB
Leaves of Love is a warm and insightful book from Lucy Aykroyd who is experienced as an end of life doula. She shares stories from those in her care and how she helped them as she was by their side in their final days. It's beautiful and heartwarming and made me quite emotional. It's not a long read, but it's a precious and valuable one.
Lucy not only shares stories from those she cared for in their final days, but also offers helpful advice for both caring for those nearing the end of their journey, and what one can expect. She talks about little gestures that can mean the world to the person, how to help get through the tough days and more.
You can really feel Lucy's compassion radiate from the pages of Leaves of Love. It makes the prospect of death seem a little less scary, for me, at least. It's hard to know what to do or how to act when people are dying and this book feels like a blanket around the shoulders and the warm pat of reassurance. I wish I had this book a couple of years ago when the death of my grandfather was looming overhead. I think it's one everyone should read, especially anyone who is preparing for the end of life for someone. Be it as a carer, loved one, family member etc. This is a valuable book for both the practical aspect and for the soul.
Day 9- @Calturner
My Review:
Leaves of Love by Lucy Aykroyd is a beautiful and powerfully moving book that I know I will be going back to time and time again. Written with an empathy and understanding of death and dying very rarely seen, it gives the reader an insight into what to expect in the final moments of a loved ones life and how to support and care for someone as they approach that final transition.
It may only be a quick read but it's a powerful one. The first half tells the real life stories of the people Lucy Aykroyd has cared for in her role as a life-enhancing caregiver and end of life doula. Beginning with Lucy's own mother, the stories are beautifully written and incredibly moving accounts of the unexpected opportunities that can reveal themselves as people who are at the end of their lives begin to come to terms with the inevitability of their own death. These stories include ideas and practical tips to help carers do everything they can to enhance the lives of the people they care for as they approach their final days.
I have to admit that, as beautiful as it is, I found the second part of the book difficult to read. It brought emotions to the forefront of my mind that, after two significant losses in recent years, I now realise I haven't quite come to terms with. This part of Leaves of Love talks about the practicalities of death and how to prepare for it, what to expect as the person you love or care for is in the process of dying and how to cope with the grief that inevitably follows. But even though I found it difficult to get through these chapters, they are written with such empathy and compassion that they became almost cathartic as I read them.
As a carer myself, there is so much in Leaves of Love that resonated with me. Although I'm not an end of life carer, I do care for my adult daughter who was born with a lifelong disability. Over the last couple of years she has experienced health issues that have meant months of being confined to bed, so I can fully relate to and empathise with so many of the issues talked about in this book.
Lucy Aykroyd's words are beautiful, poignant and life-affirming. Leaves of Love is an inspirational and thought provoking read that I know I will revisit often in the future.
An emotive, beautifully written book that I would highly recommend.